Featured Saint: St Josephine Bakhita (ca 1869-1947)
St Josephine Bakhita was born into a relatively wealthy family in Darfur, Sudan. She had three brothers and three sisters and "lived a very happy and carefree life, without knowing what suffering was". However, around the age of 8yrs she was kidnapped by slave traders and forced to walk barefooted to El Obeid (690kms) in Central Sudan. She was bought and sold many times over the next 12yrs and forced to convert to Islam. Some of her 'owners' were very kind to her, but others were not. About one owner she said: "During all the years I stayed in that house, I do not recall a day that passed, without some wound or other. When a wound from the whip began to heal, other blows would pour down on me". Her most terrifying memories were when her body would be routinely lined out for cutting with a razor blade and salt water poured into the wound to ensure permanent scarring. In 1883 St Josephine Bakhita was sold again, but this time the family, of Italian origin, were very kind to her. This eventually led to her being taken to Italy and by good fortune, but not without many more difficulties, gave her the opportunity to join the Canossian Sisters. There she spent the rest of her life, 42yrs, as a nun doing household chores, praying and working with the community.
+In the Name of the Father, and of the Son, and of the Holy Spirit. Amen+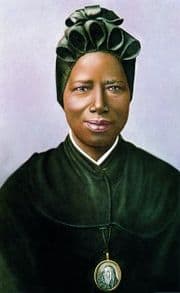 Thoughts and Reflection: When Josephine was asked: What would you do, if you were to meet your captors? Without hesitation she responded, "If I were to meet those who kidnapped me, and even those who tortured me, I would kneel and kiss their hands. For, if these things had not happened, I would not have been a Christian and a religious today".
Prayers: Holy Spirit
Come Holy Spirit, fill the hearts of your faithful,
and kindle in them the fire of Your Divine Love.
Send forth Your Spirit and they shall be created,
and You shall renew the face of the earth.
Oh God, Who by the light of the Holy Spirit
instructed the hearts of the faithful.
Grant, that by the same Spirit we may be truly wise and
ever rejoice in His consolation.
We ask this through Christ Our Lord. Amen.
St Josephine Bakhita: Pray for Us
Today's Music Suggestion: Be Not Afraid
+In the Name of the Father, and of the Son, and of the Holy Spirit. Amen+
[To view and enjoy the full Readings for today TAP HERE – Opens in a new Window]