Featured Saint: Pope Saint John Paul II (1920 – 2005)
Pope Saint John Paul was born the youngest of three children at Wadowice, Poland. His younger sister died before his birth and his mother, a teacher, died in childbirth when he was 8yrs old. His older brother, a physician, died when he was 13yrs from scarlet fever and his father when he was 20. He once wrote "At twenty, I had already lost all the people I loved".
Soon after St John Paul's father died he started to study for the priesthood and was ordained a Priest on All Saints Day 1946. At 38yrs, he was appointed Bishop, the youngest Bishop in Poland.
Pope Saint John Paul was a talented sportsman and student as well as, a gifted linguist, learning 12 languages. He was appointed Pope at 58yrs and served for almost 27yrs. He became one of the most travelled Popes, visiting 129 countries and meeting numerous world leaders. He is recognised as having helped to end Communism in Eastern Europe and forge greatly improved relations with other world religions; he was fondly known as the People's Pope. He had a profound devotion to the Blessed Virgin Mary, believing that through her intercession, he survived an assassination attempt on his life. He canonised 483 new saints and he himself was canonised a saint on 27th April 2014; just 9yrs after his death.
+ In the Name of the Father, and of the Son, and of the Holy Spirit. Amen +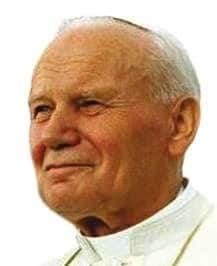 Short Story: Jesus said, "Do you think I have come to bring peace on earth? No, I tell you, but rather division". (Luke 12:51)
Thoughts: Jesus gave us his Gospel of Peace and asked us for a love greater than that which we have between brothers and sisters, mothers and fathers.
He added, if we want His help, ask Him!
Reflection: Lord Jesus, walk with me today, strengthen my resilience to love You even more and teach me how to listen.
Prayer: Victims of War ~ by St John Paul
To You, creator of nature and humanity, of truth and beauty, I pray:
Hear my voice, for it is the voice of the victims of all wars and violence among individuals and nations;
Hear my voice, for it is the voice of all children who suffer and who will suffer when people put their faith in weapons and war;
Hear my voice, when I beg you to instil into the hearts of all human beings the vision of peace, the strength of justice and the joy of fellowship;
Hear my voice, for I speak for the multitudes in every country and in every period of history who do not want war and are ready to walk the road of peace;
Hear my voice, and grant insight and strength so that we may always respond to hatred with love, to injustice with total dedication to justice, to need with the sharing of self, to war with peace.
O God, hear my voice, and grant to the world your everlasting peace.
Pope Saint John Paul: Pray for Us
Today's Music Suggestion: Ave Maria
+ In the Name of the Father, and of the Son, and of the Holy Spirit. Amen +
[To view and enjoy the full Readings for today TAP HERE Opens in a new Window]
(22nd October 2015 ~ Luke 12:49-53)