Featured Saint: The Korean Martyrs
There are an estimated 10,000+ of them! Only a few hundred are officially named.
They were the victims of Korean religious persecution during the 19th century. Korea was then a country ruled by dynasties with a small number of privileged noble leaders served by the majority enduring hard labour. Christianity was seen as a threat to the rulers and heavily suppressed. Despite this and the complete lack of Priests, people flocked to Christianity while it was managed by lay people. They called themselves "friends of the teaching of God of Heaven"; friends implying equality. Slowly, as a secret network of Priests developed, Christian suppression multiplied leading to the martyrdom of thousands by authorities.
The personal stories are heartbreaking. For instance, the first Korean Priest to enter Korea as a missionary, Andrew Kim Taegon, was arrested thirteen months after his ordination and put to death by sword. He was just twenty six years old.
+ In the Name of the Father, and of the Son, and of the Holy Spirit. Amen +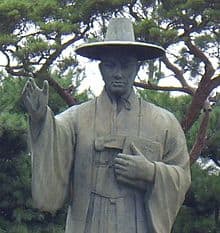 Short Quote: As Jesus spoke to his disciples he said to them, "The Son of Man will be betrayed into the hands of men. They will kill him, and after three days he will rise." (Mark 9:31)
Thoughts: Why? All for the love of us!
Reflection: God our Father, your love for us is endless. May I become worthy of the great sacrifice your Son made for my sins. Awaken my resolve to hear you more clearly and love you more dearly.
This I ask through Jesus your Son.
Prayer: Psalm 63
O God, you are my God, for you I long:
For you my soul is thirsting.
My body pines for you
like a dry, weary land without water.
So I gaze on you in the sanctuary
to see your strength and your glory.
For your love is better than life,
my lips will speak your praise.
So I will bless you all my life,
in your name I will lift up my hands.
My soul shall be filled as with a banquet,
my mouth shall praise you with joy.
At night I remember you.
On you I muse through the night
for you have been my help;
in the shadow of your wings I rejoice.
My soul clings to you;
your right hand holds me fast.
The Korean Saints: Pray for Us
Today's Music Suggestion: How Great Is Our God
+ In the Name of the Father, and of the Son, and of the Holy Spirit. Amen +
[To view and enjoy the full Readings for today

TAP HERE

– Opens in a new Window]
(20th September 2015 ~ Mark 9:30-37)