Feast Day: Our Lady of the Rosary
Our Lady of the Rosary is a celebration of the Blessed Virgin Mary. The Rosary origin is often related to St Dominic following a vision from Mary, encouraging him to recite and spread its use and message throughout the world.
The feast day is also known as Our Lady of Victory, following a Christian naval defence in 1571 when an Ottoman fleet's attempted invasion of Western Europe was defeated and with it the possible removal of Christianity; all attributed to the intercession of the Blessed Virgin Mary.
Our Lady of the Rosary and Our Lady of Victory is Patron Saint of many Churches and societies worldwide.
+In the Name of the Father, and of the Son, and of the Holy Spirit. Amen+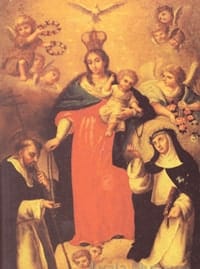 Short Story: Jesus was the guest of Martha and her sister Mary in their home. Mary sat at Jesus's feet listening to his beautiful stories while Martha did all the cooking and lunch preparations. A stressed Martha exited the kitchen and said to Jesus, "Lord, don't you care that my sister has left me to do all the work alone?" Jesus replied, "Martha, Martha, you are worried and troubled about many things, but… Mary has chosen the best part; it will not be taken away from her". (Luke 10:41-42)
Thoughts: An amazing response from Jesus; but there was a reason. Martha seemed as if she was being unfairly treated. However listening is also working, learning and responding. When Jesus' story-telling ended, Mary's new and more informed purpose to her work was then about to begin. Likewise the same chore is now mine today!
Private Reflection: Lord Jesus, strengthen my conviction in your promises. May today be a new me; in just a small measure please! Perhaps with your grace, may I have Martha's job please; less thinking and more action!
Prayers: Select your own personal prayers from our website.
Our Lady of the Rosary: Pray for Us
+In the Name of the Father, and of the Son, and of the Holy Spirit. Amen+
[To view and enjoy the full Readings for today CLICK HERE]