Feast Day: Our Lady of Sorrows
This Feast Day is based on seven of the most sorrowful events in Mary's life. The events are:
1. The prophecy of Simeon when Mary and Joseph took Jesus to the temple and he said to Mary, "A sword will pierce your heart". (Luke 2:34-35)
2. Mary and Joseph's flight to Egypt to avoid Herod finding the child Jesus and killing him. (Matthew 2:13)
3. The loss of Jesus for three days in Jerusalem while she frantically searched for him. (Luke 2:43-45)
4. Mary meeting Jesus as he carried his Cross to Calvary.
5. Mary watching Jesus die on the Cross. (John 19:25)
6. The piercing of Jesus' side by the soldier with a spear. (Matthew 27:57-59)
7. Placing Jesus' dead body in the tomb. (John 19:40-42)
+In the Name of the Father, and of the Son, and of the Holy Spirit. Amen+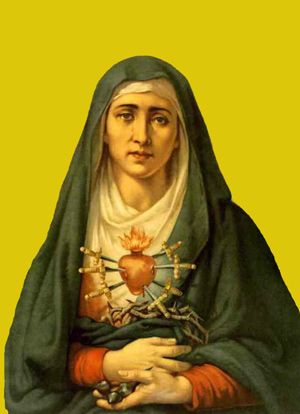 Short Quote: Mary and Joseph took the baby Jesus to the temple in Jerusalem as was custom. When Simeon, a righteous man, saw him, he took him in his arms, blessed God and said, "My eyes have seen your salvation…" and turning to Mary he said, "…and you yourself a sword will pierce…". (Luke 2:30, 35)
Thoughts: Mothers are special. Where possible they carry our burden and when they can't, it breaks their hearts! Alongside our own mother, there is none more special than the Blessed Virgin Mary.
Private Reflection:
Prayer to Mary:
Hail Mary, full of Grace,
the Lord is with Thee,
Blessed art thou amongst women
and Blessed is the fruit of Thy womb, Jesus.
Holy Mary, Mother of God,
pray for us sinners now
and at the hour of our death. Amen.
Prayers: Select your own personal prayers from our website.
Our Lady of Sorrows: Pray for Us
+In the Name of the Father, and of the Son, and of the Holy Spirit. Amen+
[To view and enjoy the full Readings for today CLICK HERE]