Featured Saint: St Juan Diego (1474 – 1548)
St Juan was an Indian, born at or near Cuauhtitlan, Mexico City. He and his wife were among the first to be baptised following the arrival of Franciscan missionaries in 1524. It was while walking from his home to the Franciscan Mission in 1531 that he encountered his first of five visions from the Blessed Virgin Mary. Mary told him to ask the local Bishop to build a chapel nearby in her honour, so that she could relieve the distress of those who came and called for her help. The sceptical Bishop asked for a sign to prove that the apparition was indeed from Mary. Among the miracles Mary performed was the healing of St Juan's uncle who was near to death and the miraculous creation of her image on St Juan's cloak after she arranged some flowers and he placed them inside his cloak to take them to the Bishop.
A Chapel was hastily built on the Bishops instruction and while taking St Juan's cloak to be installed inside, a local Indian, who was accidentally shot in the neck by an arrow, was instantly healed when the arrow was removed.
Many other miracles were reported thereafter and they continue to happen to the present time.
Millions of people visit the site of Our Lady of Guadalupe annually, making it the most visited Marian shrine in the world. St Juan is the Patron Saint of indigenous people.
+In the Name of the Father, and of the Son, and of the Holy Spirit. Amen+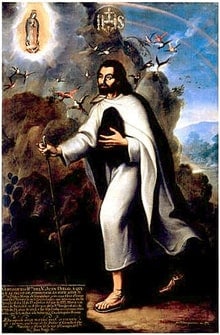 Short Story: Jesus asked, "If someone owns a hundred sheep and one of them goes astray, will he not leave the ninety-nine on the mountains and go look for the one that went astray"? (Matthew 18:12)
Thoughts: Shepherds, leaders, parents, adults, children… we all have a responsibility and duty of care, for someone!
Private Reflection: Lord Jesus, grant us the grace to put others before ourselves, especially our own family.
Prayer: Prayer to Mary
Dearest Lady,
fruitful Mother of holiness,
teach me your ways of gentleness and strength.
Hear my humble prayer for help offered with heartfelt confidence.
St Juan Diego: Pray for Us
+In the Name of the Father, and of the Son, and of the Holy Spirit. Amen+
[To view and enjoy the full Readings for today TAP HERE]