Featured: Our Lady of Guadalupe (1531)
Our Lady of Guadalupe is a title given to the Blessed Virgin Mary following her multiple appearances to Juan Diego in 1531 on a hill near Mexico City. Mary cured his uncle who was near to death and asked Juan to pick some flowers which she arranged and he put inside his cloak. Later when he opened his cloak, in front of the Bishop, the flowers fell to the floor leaving behind her now world famous self-image. A Chapel was hastily built at the site and, while taking the cloak to be installed inside, a local Indian, who was accidentally shot in the neck by an arrow, was instantly healed when the arrow was removed. Today, many millions of people continue to visit the site annually making it the most visited Marian shrine in the world.
+In the Name of the Father, and of the Son, and of the Holy Spirit. Amen+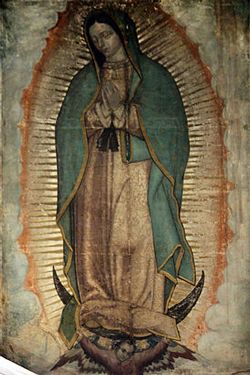 Short Quote: When Mary went to see Elizabeth, who was pregnant with John the Baptist, Elizabeth greeted her with the words, "Blessed are you among women, and blessed is the child in your womb". (Luke 1:42)
Thoughts: Mary was specially chosen to be the earthly Mother of Jesus. Today, she also wants to be our Special Mother!
Private Reflection: Mary our Mother, you have created a special place for each of us in your heart. Help us to follow your example, choose the right path and, through your intercession, hold only love in our hearts.
Prayers: A Prayer to Mary
O Most Pure Heart of Mary,
you are full of goodness.
Show us your love.
Let the flame of your heart, O Mary,
descend on all people.
Mary, we love you.
Impress on our hearts, true love,
so that we may long for you.
O Mary, gentle and humble of heart,
remember us in our greatest needs. Amen.
Mary of Guadalupe: Pray for Us
+In the Name of the Father, and of the Son, and of the Holy Spirit. Amen+
[To view and enjoy the full Readings for today TAP HERE]