Featured: Our Lady of Fatima
On 13th May 1917, the Blessed Virgin Mary appeared to three shepherd children aged 10, 9 and 7. at Fatima, Portugal. Running home to tell their parents they described the Lady as "brighter than the sun, shedding rays of light clearer and stronger than a glass filled with the most sparkling water".
The visions continued every month for the following six months. On the occasion of the final vision more than 70,000 people witnesses a promised miracle of 'the dancing sun'. The three children were, Lucia Santos and her two cousins, Jacinta and Francisco Marto. Jacinta and Francisco, as predicted by Our Lady, died a few years later, victims of the great Spanish flu epidemic. Lucia became a nun, living a life of penance, prayer and adoration to the Immaculate Heart of Mary. She died in 2005 aged 97yrs.
+In the Name of the Father, and of the Son, and of the Holy Spirit. Amen+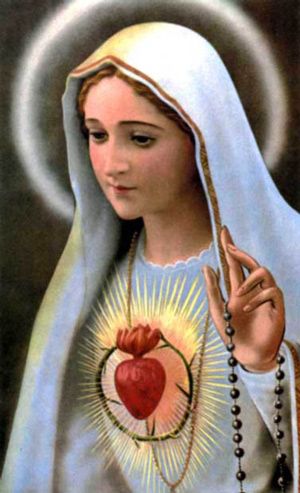 Short Story: Before Jesus ascended to heaven he said to his disciples, "I have many more things to say to you, but you cannot bear them now. But when he, the Spirit of truth, comes, he will guide you into all truth". (John 16:12-13a)
Jesus wasn't planning to leave his disciples alone to do His work, but to fill them with the Holy Spirit; Pentecost awaited them!
Thoughts: Jesus , continues to offer the precious gift of the Holy Spirit to us, through the sacraments. The choice is ours!
Private Reflection: This prayer was given to the children by the Angel of Portugal:
"My God, I believe, I adore, I hope and I love you.
I ask pardon for those who do not believe, do not adore, do not hope and do not love you".
Prayer: Our Lady of Fatima
O Most Holy Virgin Mary,
Queen of the most holy Rosary,
you were pleased to appear to the children of Fatima
and reveal a glorious message.
We implore you,
inspire in our hearts
a fervent love for the recitation of the Rosary.
By meditating on the mysteries of the redemption that are recalled therein may we obtain the graces and virtues that we ask, through the merits of Jesus Christ, our Lord and Redeemer. Amen.
Our Lady of Fatima: Pray for Us
Today's Music Suggestion: Ave, Ave Maria
+In the Name of the Father, and of the Son, and of the Holy Spirit. Amen+
[To view and enjoy the full Readings for today TAP HERE – Opens in a new Window]
(13th May 2015)