On 13th May 1917, the Blessed Virgin Mary appeared at Fatima in Portugal to three shepherd children aged 10, 9 and 7. Running home to tell their parents they described the Lady as "brighter than the sun, shedding rays of light clearer and stronger than a glass filled with the most sparkling water".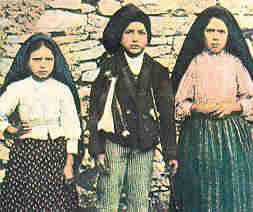 The visions continued every month for the following six months. On the occasion of the final vision, more than 70,000 people witnessed a promised miracle described as 'the dancing sun'. The three children were, Lucia Santos and her two cousins, Jacinta and Francisco Marto.
Jacinta and Francisco, as predicted by Our Lady, died a few years later, victims of the great Spanish flu epidemic. Lucia became a nun and lived a life of penance, prayer and adoration to the Immaculate Heart of Mary. She died in 2005 aged 97yrs.
---
Our Lady of Fatima:
Pray for us that we will inherit the rewards of eternal life as promised by the Risen Jesus.
Glory be to the…
---