Featured Saint: St Stephen the Sabaite (725 – 796)
St Stephen was a Christian Monk from Julis, Gaza. He was a nephew of St John of Damascus.
St Stephen spent 50yrs in the Monastery of Mar Saba; one of the oldest monasteries in the world, established around 483. The monastery is still in use today with an active Religious community. Many of its traditions have also been retained including, the restriction on women entering the main compound. St Stephen's life in the monastery was undoubtedly one of austerity and constant prayer.
+In the Name of the Father, and of the Son, and of the Holy Spirit. Amen+
Short Story: It was the Last Supper and Jesus, having washed the disciples feet, returned to the table and sat down.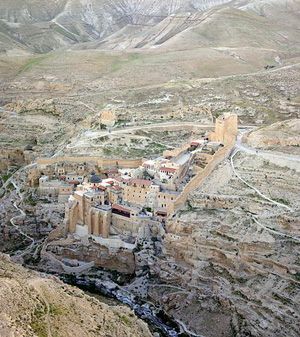 "Greatly distressed," he said, "I tell you the solemn truth, one of you will betray me." (John 13:21)
Thoughts: There were a multitude of interlinked reasons for Jesus' distress:
♦ His imminent arrest, torture, agony and crucifixion
♦ Judas, a once trusted disciple, was about to betray him
♦ Many still refused to accept his Good News
♦ Our sins
Private Reflection: Lord Jesus, I am sorry for having offended you, forgive me my sins.
Prayer: Jesus, My Heart (D Hammarskjold – Adapted)
Give me a pure heart – that I may see you.
A humble heart – that I may hear you.
A heart of love – that I may serve you.
A heart of faith – that I may abide in you.
St Stephen the Sabaite: Pray for Us
Today's Music Suggestion: I am the Living Bread
+In the Name of the Father, and of the Son, and of the Holy Spirit. Amen+
[To view and enjoy the full Readings for today

TAP

HERE

– Opens in a new Window]