Feast Day: Most Holy Name of Mary
Today we honour the holy name of Mary. This feast day was first established in 1683 to commemorate the victory of troops, placed under the protection of the Blessed Virgin Mary, over the Muslim Ottoman Empire in the battle of Vienna. (The day was commemorated in Vienna by creating the now world famous "croissant" pastry.) This feast day is another occasion to celebrate the daily help that Mary continues to give to all of us through the exceptional privileges available to her from God.
"The Holy Name of the Blessed Virgin Mary, a day on which the inexpressible love of the Mother of God for her Holy Child is recalled, and the eyes of the faithful are directed to the figure of the Mother of the Redeemer, for them to invoke with devotion". (Roman Martyrology)
+In the Name of the Father, and of the Son, and of the Holy Spirit. Amen+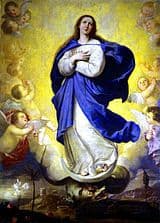 Short Quote: Jesus said, "Why do you see the speck in your brother's eye, but fail to see the beam of wood in your own". (Luke 6:41)
Thoughts: A popular pastime is watching others! Even when sitting having a drink, using social media, in a classroom or in our workplace, seeing what others are doing seems more important!
Private Reflection: Lord Jesus, help me to wake up and look inside myself! Help me to remove the "beam" from my eye!
Prayers: Select your own personal prayers from our website.
Most Holy Name of Mary: Pray for Us
+In the Name of the Father, and of the Son, and of the Holy Spirit. Amen+
[To view and enjoy the full Readings for today CLICK HERE]