Feast Day: Most Holy Name of Mary
Today we honour the Holy Name of Mary. The feast day was first established in 1683 to commemorate the victory of troops, placed under the protection of the Blessed Virgin Mary, over the Muslim Ottoman Empire in the battle of Vienna. (The day was also commemorated in Vienna by creating the now world famous "croissant" pastry.)
The feast day is another occasion to celebrate the daily help that Mary continues to give to all of us, through her exceptional privileges, available to her from God.
"The Holy Name of the Blessed Virgin Mary, is a day on which the inexpressible love of the Mother of God for her Holy Child is recalled, and the eyes of the faithful are directed to the figure of the Mother of the Redeemer, for them to invoke with devotion". (Roman Martyrology)
+ In the Name of the Father, and of the Son, and of the Holy Spirit. Amen +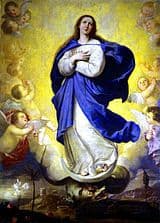 Short Quote: Jesus often spoke symbolically. He once said, "…no good tree bears bad fruit, nor again does a bad tree bear good fruit,"
The tree symbolised, us and the fruit, our actions. (Luke 6:43)
Thought: Don't spend time wondering whether you are a "good tree" or a "bad tree". God made all of us in his own likeness; we have good within, and today we can bear great "fruit".
Reflection: Lord Jesus, help me to do as many small acts of "good" today as my energy will allow and, may I do each, with a smile!
Prayer: Sacred Heart of Jesus
O, most Holy Heart of Jesus,
fountain of every blessing, I adore you, I implore you
and with lively sorrow for my sins, I offer you this poor heart of mine.
Make me humble, patient, pure and wholly obedient to your will.
Grant Good Jesus, that I may live in you and for you.
Protect me in the midst of danger and comfort me in my afflictions.
Give me health of body,
assistance in my needs,
your blessings in all that I do,
and the grace of a happy death. Amen.
Most Holy Name of Mary: Pray for Us
Today's Music Suggestion: Change My Heart O God
+ In the Name of the Father, and of the Son, and of the Holy Spirit. Amen +
[To view and enjoy the full Readings for today

TAP HERE

– Opens in a new Window]
(12th September 2015 ~ Luke 6:43-49)