Featured Saint: St Hilary of Poitiers (300-368AD)
St Hilary is known as the Patron Saint of lawyers. He was born into a pagan family (non-worshiping) but through his education and study of religions and scripture he became a Christian. He was married with a daughter when all were baptised.
St Hilary became a priest and the Bishop of Poitiers, France. He was exiled from his Diocese for four years because of his Christian beliefs and public preaching. He wrote many significant Church documents including Hymns and Psalm reviews.
+In the Name of the Father, and of the Son, and of The Holy Spirit. Amen+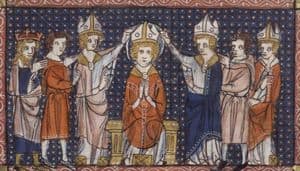 Short Story: Jesus travelled to Capernaum and entered the synagogue. Inside, "there was a man … with an unclean spirit, and he cried out, 'Leave us alone, Jesus the Nazarene'! Have you come to destroy us? I know who you are – the Holy One of God"! But Jesus rebuked him saying: "Silence! Come out of him"! (Mark 1:23-25)
Thoughts: Had I been in the Synagogue when Jesus performed this miracle, my thoughts and actions are unlikely to have been any different from those who were then present. In astonishment, I would probably have also asked, "did the spirit leave Him", already knowing the answer!
Private Reflection: Lord Jesus, help us to live your Good News while we go about our daily work. May we proudly proclaim that news to others, through our every action.
Prayer: Miracle Prayer
Lord, Jesus, I come before you, just as I am.
I repent of my sins, forgive me.
I give you my entire self.
I invite you into my life Jesus.
I accept you as my Lord and Saviour.
Heal me, change me,
strengthen me in body, soul and spirit.
Cover me with your precious blood,
and fill me with your Holy Spirit,
I praise you Jesus. I thank you Jesus.
St Hilary: Pray for Us
Today's Music Suggestion: Change My Heart O God
+In the Name of the Father, and of the Son, and of The Holy Spirit. Amen+
[To view and enjoy the full readings for today TAP HERE – Opens in a new Window]