Featured Saint: St Marguerite Bourgeoys (1620-1700).
St Marguerite Bourgeoys was born the sixth of twelve children at Troyes, France. Her father died when she was very young and her mother when she was 19yrs. At 32 she was refused admission to The Carmelite Order so, she left France for Quebec, Canada with other colonists.
She committed her remaining life to working with colonists and the poor, insisting on, living among them. She established the unenclosed congregation of Notre Dame in Montreal and set up numerous girls schools for their education. With a growing number of Sisters, her work prospered and today, her great educational legacy lives on.
+In the Name of the Father, and of the Son, and of The Holy Spirit. Amen+
S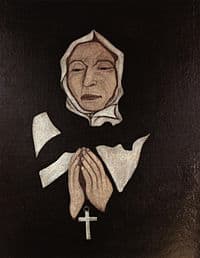 hort Quote: Following John the Baptists imprisonment, "Jesus went into Galilee and proclaimed the Gospel of God". (Mark 1:14).
Thoughts: Jesus' determination was unwavering. John the Baptist, who had 'prepared his way', was now in prison but Jesus' own life of preaching and conversion would continue, although sadly without John.
Private Reflection: Lord Jesus, help me to understand and spread your Good News, just as John the Baptist did. Give me the strength to persevere, even when alone. I ask this through the power of your Holy Spirit. Amen.
Prayer: Most Holy Spirit
Most Holy Spirit, beloved of my soul, I adore You.
Enlighten me, guide me, comfort me, console me.
I promise to submit myself to all You desire of me,
And permit all You wish to happen to me.
Give me Your help, tell me what to do.
Most holy Spirit, bring peace to my world. Amen.
St John the Baptist: Pray for Us
St Marguerite: Pray for Us
Today's Music Suggestion: Be Not Afraid
+In the Name of the Father, and of the Son, and of The Holy Spirit. Amen+
[ To view and enjoy the full readings for today TAP HERE – Opens in a new Window]