Featured Person: Blessed Mary Frances Schervier (1819 – 1876)
Blessed Mary Frances was born into a wealthy family at Aachen, Germany. Her mother and two sisters died from tuberculosis when she was 16yrs. At an early age, Mary Frances became renowned for her generosity to the poor and help for the sick. However, her father, fearing that she would carry diseases into his own home, initially objected to her work but eventually relented. Following her father's death in 1845, Mary Frances established the Poor Sisters of St Frances. Their role was to care for the poor and destitute whilst living a personal life of poverty. At the time of Mary Frances' death there were in excess of 2,500 members in her community worldwide. She was beatified in 1974.
+ In the Name of the Father, and of the Son, and of the Holy Spirit. Amen +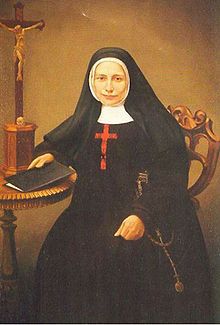 Short Story: Jesus often entered the temple courts to teach and preach. In so doing, he was openly challenged the established elders and chief priests; he had a new message to share!
Thoughts: Challenging established culture and practice often seems much too risky! Our obvious response is, why can't I just have a quiet life or, just let them get on with whatever they want – as long as it doesn't affect me!
Private Reflection: Lord Jesus, open my eyes. Help me to see beyond selfishness and this world. May my actions humbly address the material and spiritual needs of everyone! Thank you Jesus.
Prayers: Select your own personal prayers from our website.
Blessed Mary Frances: Pray for Us
Today's Music Suggestion:
+ In the Name of the Father, and of the Son, and of the Holy Spirit. Amen +
[To view and enjoy the full Readings for today TAP HERE – Opens in a new Window]
(15th December 2015 ~ Matthew 21:28-32)