St Januarius (Died 305) was born into a rich family at Benevento, Italy. At the very young age of 15, he was made a Priest of his Parish and at 20, Bishop of Naples.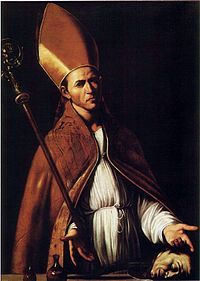 During the Roman persecution of Christians by Diocletian, St Januarius hid many Christians, saving them from martyrdom. Some of his friends were however arrested and while visiting them in prison he was recognised and also arrested.
Refusing to relinquish his faith, St Januarius was condemned to be "thrown to wild animals" but this was changed to beheading to avoid a public disturbance.
St Januarius' Feast Day is the 19th September. He is the Patron Saint of Naples.
---
St Januarius:
Pray for us that we will support and protect those persecuted for their faith.
Glory be to the…
---