Feast Day: Exaltation of the Holy Cross
On this Feast Day we celebrate the Cross upon which Jesus died for our salvation. According to legend, the Cross used to crucify Jesus was discovered in 326 by Saint Helena during a pilgrimage to Jerusalem. The Church of the Holy Sepulchre was then built at the site of the discovery and a portion of the Cross placed inside.
+In the Name of the Father, and of the Son, and of the Holy Spirit. Amen+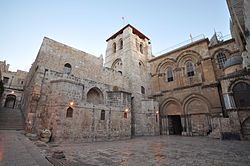 Short Quote: Jesus said, "For God so loved the world that he gave his only Son, so that everyone who believes in him might not perish but might have eternal life". (John 3:16).
Thoughts: Today, let's show a little love to God our Father for his great trust in us and sending his only Son, to die on the Holy Cross, for our salvation.
Private Reflection:
Prayer before a Crucifix:
Behold, O Kind and Most Sweet Jesus,
I fall upon my knees in Thy sight,
and with the most fervent desire of my soul,
I pray and beseech Thee to impress upon my heart
lively sentiments of faith, hope and charity,
with true repentance for my sins,
and a firm desire of amendment.
Whilst with deep affection and grief of soul,
I ponder within myself
and mentally contemplate Thy five most precious wounds,
having before mine eyes that which David the prophet spoke,
O Good Jesus: "They have pierced my hands and feet, they have numbered all my bones". Amen.
Prayers: Select your own personal prayers from our website.
St Bridget: Pray for Us
+In the Name of the Father, and of the Son, and of the Holy Spirit. Amen+
[To view and enjoy the full Readings for today CLICK HERE]