Featured Saints: St Basil the Great & Gregory Nazianzen
Both St Basil and St Gregory were born at Cappadocia, Turkey. They met during their early education and became lifelong friends. St Basil had three older brothers and, like himself, they were all appointed Bishops in later life. He became a prominent theologian and preacher. When St Basil was once threatened with exile for his resistance against Arian heresy, he replied, "Is that all? Nothing of what you mention touches me … exile will be impossible, since everywhere on God's earth I am at home". St Gregory lived as a hermit until consecrated Bishop by St Basil. He also became a noted Theologian and is a Doctor of the Church.
+In the Name of the Father, and of the Son, and of The Holy Spirit. Amen+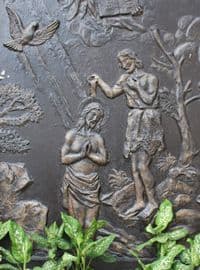 Short Quote: They said to John the Baptist, "Who are you? So John said, 'I am, … a voice that cries in the wilderness, make a straight way for the Lord. … I baptise with water; but there stands among you … the one who is coming after me; and I am not fit to undo his sandal strap". (John 1:22-27)
Thoughts: St Basil and St Gregory, you were close friends who became learned Theologians. You strived to understand and share the teachings of our faith. Like St John the Baptist you were preparing us for our meeting with Jesus.
Reflection: O God, help us in our work today; learning never ends and standing up for our faith never ceases. May we live in the footsteps of Saint Basil, St Gregory and St John, so forever, doing your will.
Prayer: Holy are your Ways
Help me to understand, Lord,
that what counts is not the road travelled,
but simply putting my hand in yours
and journeying side by side with you, Lord Jesus.
0 you who are the joy of my journey
and the repose in our Father's home!
Holy, holy is the Lord,
for eternal is your love.
St Basil the Great: Pray for Us
St Gregory: Pray for Us
Today's Music Suggestion: – Amazing Grace (Celtic Women)
+In the Name of the Father, and of the Son, and of The Holy Spirit. Amen+
[To view and enjoy the full readings for today TAP HERE – Opens in a new window]