Featured Saint: St Agnes of Rome (291-304)
St Agnes' life was a very short one. She was born into a wealthy Christian family and, with such wealth came many marriage suitors. She refused them all, opting for a life of 'resolute devotion to religious purity'. For her refusal, St Agnes was condemned to be dragged through the streets and executed. There are many legends of torture and miracles associated with this act but, all end with her death, at the age of around 13yrs. She is just one of seven women commemorated by name in the Holy Mass. She is the Patron Saint of girls.
+In the Name of the Father, and of the Son, and of The Holy Spirit. Amen+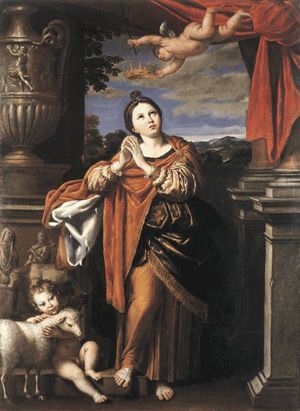 Short Quote: It was the Sabbath, so Jesus went to the synagogue. Once again, having met a man in need of healing, with a withered hand, He chose to do good. "He said to the man, 'Stretch out your hand.' He stretched it out, and his hand was restored." (Mark 3:5)
Thoughts: Doing good gets noticed! Although, it's perhaps sometimes easier to hide in a crowd!
Private Reflection: Lord Jesus, help me to make a difference to someone other than myself today! Open my heart to your great power.
Prayer: Holy are Your Ways
Help me to understand, Lord,
that what counts is not the road travelled,
but simply putting my hand in yours
and journeying side by side with you, Lord Jesus
0 you who are the joy of my journey
and the repose in our Father's home!
Holy, holy is the Lord,
for eternal is your love.
St Agnes: Pray for Us
Today's Music Suggestion: Shout to the Lord
+In the Name of the Father, and of the Son, and of The Holy Spirit. Amen+
[To View and enjoy the full readings for today TAP HERE – Opens in a new Window]