Featured: All Holy Angels
It is said that even the pagans believed they had a Guardian Angel!
The belief that we all have a heavenly helper exists in some form is most religions and philosophies. Angels are extensively mentioned in both the Old and New Testament. Our personal Guardian Angel is our gift from God to watch over and guide us; we are never alone – maybe they are our sixth sense!
Many Saints reported visions from Angels, sometimes in the presence of others such as the Blessed Virgin Mary. Our hope and prayer is that one day, our Guardian Angel will accompany and comfort us on our final journey from this world to eternal happiness in Heaven.
+ In the Name of the Father, and of the Son, and of the Holy Spirit. Amen +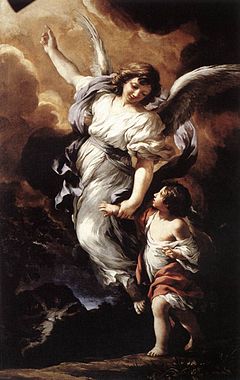 Short Story: When Jesus was asked by his disciples "Who is the greatest in the Kingdom of Heaven?" He replied, "I tell you the truth, unless you turn around and become like little children, you will never enter the kingdom of heaven!"
Thoughts: So will Heaven be full of children?
Yes, it will abound with them among the Angels.
They will be celebrating with the many faithful souls who gave their endless love to others and put their undivided trust in God.
Reflection: All Holy Angels, come to my aid, so that I become like you.
Prayer to Our Guardian Angel
O Angel of God, my guardian dear
to whom God's love commits you here.
Ever this day be at my side
to light, to guard, to rule and guide.
Amen.
Prayer: Anima Christi
Soul of Christ sanctify me
Body of Christ, save me
Blood of Christ, inebriate me
Water from the side of Christ, wash me
Passion of Christ, strengthen me
O Good Jesus, hear me
Within Thy wounds Lord, hide me
Suffer me, not to be separated from Thee
From the malicious enemy defend me
In the hour of my death call me
That I may praise Thee with Thy Saints
and Angels, forever and ever. Amen.
All Holy Angels: Pray for Us
Today's Music Suggestion: On Eagles Wings
+ In the Name of the Father, and of the Son, and of the Holy Spirit. Amen +
[To view and enjoy the full Readings for today TAP HERE Opens in a new Window]
(2nd October 2015 ~ Matthew 18:1-5)