Featured Saint: St Teresa Benedicta of the Cross (Edith Stein) (1891 – 1942)
St Teresa Benedicta was born the youngest of eleven children into a Jewish family at Breslau, Germany. By her teenage years she had become an atheist. A talented academic, she studied at the University of Breslau and received a Doctorate from Gottingen University. She then became a Teaching Assistant at various Universities. Through her studies and readings, notably the autobiography of St Teresa of Avila, she converted to Catholicism and resigned her assistantship to teach in a Dominican convent school. During the following years she produced many writings including a translation of Thomas Aquinas' "Of Truth" into German, She also wrote to Pope Pius XI denouncing the Nazi regime for its abuses in Christ's name. In 1932 St Teresa Benedicta entered the Discalced Carmelite Order but was transferred to the Netherlands along with her sister who had likewise converted to Catholicism and joined the same Order. In 1942 they were both arrested, as Jewish converts, along with 987 other Jews and taken to Auschwitz concentration camp. They were executed in a mass gas chamber, possibly on the 9th August 1942. St Teresa Benedicta is among the six Patron Saints of Europe.
+In the Name of the Father, and of the Son, and of the Holy Spirit. Amen+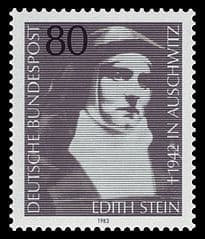 Quote: Pope Benedict during his 2009 visit to Auschwitc Birkenau said, "To speak in this place of horror, in this place where unprecedented mass crimes were committed against God and man, is almost impossible — and it is particularly difficult and troubling for a Christian, for a Pope from Germany. In a place like this, words fail; in the end, there can only be a dread silence — a silence which is itself a heartfelt cry to God… our silence becomes in turn a plea for forgiveness and reconciliation, a plea to the living God never to let this happen again".
Thoughts and Reflection: Pope Benedict ended his visit to Austchwitz-Birkenau saying: Humanity walked through a "valley of darkness." And so, here in this place, I would like to end with a prayer of trust — with one of the psalms of Israel which is also a prayer of Christians: "The Lord is my shepherd, I shall not want. He makes me lie down in green pastures; he leads me beside still waters; he restores my soul. He leads me in right paths for his name's sake. Even though I walk through the valley of the shadow of death, I fear no evil; for you are with me; your rod and your staff — they comfort me … I shall dwell in the house of the Lord my whole life long" (Psalm 23:1-4, 6)."
Prayers: Select your own personal prayers from our website.
St Teresa Benedicta: Pray for Us
+In the Name of the Father, and of the Son, and of the Holy Spirit. Amen+
[To view and enjoy the full Readings for today CLICK HERE]