St Dominic (1000-1073) was born into a peasant family in Canas, Spain. In his youth, he was a shepherd.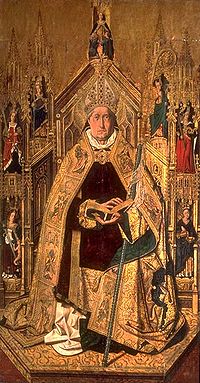 St Dominic joined the Benedictine Order at the Monastery of San Millán de la Cogolla. Soon after, he was ordained a Priest and then appointed Master of Novices and Monastery Prior.
When St Dominic opposed the Kings orders to annexe the monastery lands, he was driven out of San Millan. Finding refuge at Silos, St Dominic joined the decaying Abbey of St Sebastian. There he set about rebuilding the Abbey, both spiritually and physically. By the time of his death, the number of monks at the Abbey had increased from six to forty. Many miracles were attributed to St Dominic's intercession after his death.
St Dominic's Feast Day is the 20th December. He is the Patron Saint of rabies sufferers.
---
St Dominic of Silos:
Pray that we will persevere in upholding Jesus' teachings and spreading his Gospel, despite the hurdles that befall our path.
Glory be to the…
---