Featured: Blessed Contardo Ferrini (1859 – 1902)
Blessed Contardo Ferrini was born in Milan, Italy. He was taught by his Professor father and excelled in his studies including achieving fluency in several languages. He was nicknamed "Saint Aloysius" in his youth because of his commitment to the Catholic faith and the sacraments. He entered Pavia University at 17yrs and by 21 was awarded a Doctorate in Law. By 26 he received his first professorship. Blessed Contardo Ferrini's great love however remained his religion and although he wished to become a Priest he opted to join the Order of St Francis and St Vincent de Paul as an unmarried layperson. He died, aged 43, unexpectedly from typhus. He is the Patron of Universities and Professors.
+In the Name of the Father, and of the Son, and of the Holy Spirit. Amen+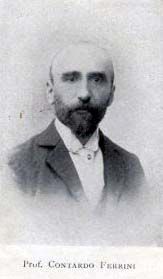 Short Story: Jesus was asked, which commandment is the greatest. He replied, "Love the Lord your God with all your heart, with all your soul, and with all your mind". (Luke 22:37)
Thoughts: Love is a great gift from God. How often do we use it – not enough perhaps! But by giving just a little, in return we will receive a lot!
Private Reflection: I pray that today I will freely express my love to my friends, family and all whom I meet; making me evermore closely united to You my God.
Prayer: Prayer of Love
Love is patient, love is kind.
It does not envy, it does not boast, it is not proud.
It is not rude, it is not self-seeking, it is not easily angered, it keeps no record of wrongs.
Love does not delight in evil but rejoices with the truth.
It always protects, always trusts, always hopes, and always perseveres. (1 Corinthians 13:4-7)
Blessed Contardo Ferrini: Pray for Us
+In the Name of the Father, and of the Son, and of the Holy Spirit. Amen+
[To view and enjoy the full Readings for today CLICK HERE]