Featured: Blessed Contardo Ferrini (1859 – 1902)
Blessed Contardo Ferrini was born in Milan, Italy. He was taught by his Professor father and excelled in his studies including, fluency in several languages. He was nicknamed "Saint Aloysius" in his youth because of his commitment to the Catholic faith and the sacraments.
Blessed Contardo entered Pavia University at 17yrs and by 21, was awarded a Doctorate in Law. By 26, he had received his first professorship.
However, Blessed Contardo's great love remained his religion and although he wished to become a Priest, instead, he joined the Order of St Francis and St Vincent de Paul as an unmarried layperson; devoting his life to the poor and prayer. Blessed Contardo died, aged 43, unexpectedly from typhus. He is the Patron of Universities and Professors.
+ In the Name of the Father, and of the Son, and of the Holy Spirit. Amen +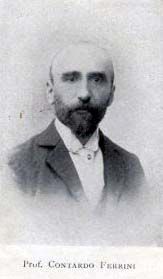 Short Story: It was the Sabbath and Jesus was teaching in the synagogue. There he saw a woman who had been unable to straighten her back for 18yrs and he cured her.
The synagogue leaders were indignant with rage; Jesus was "working" on the Sabbath!
Jesus said to them, "You hypocrites. Do not each of you on the Sabbath untie his ox or his donkey from its stall, and lead it to water?" (Luke 13:15)
Thoughts: Jesus invites us to do good at all times.
That doesn't prevent us from leaving the Sabbath free for special weekly celebration with God!
Reflection: Lord Jesus, I offer to you my daily work. Receive it as my small gift of thanks, for the many graces you have bestow on me.
Prayer: Happiness ~ by Mother Theresa
May, today, there be peace within you.
May you trust God, that you are exactly where you are meant to be.
May you not forget the infinite possibilities,
that are born of faith.
May you use those gifts that you have received,
and pass on the love that has been given to you.
May you be content knowing that you are a child of God.
Let His presence settle into your bones,
and allow your soul the freedom to sing, dance,
and to bask in the sun.
It is there for each and every one of you.
Blessed Contardo Ferrini: Pray for Us
Today's Music Suggestion: Here I Am To Worship
+ In the Name of the Father, and of the Son, and of the Holy Spirit. Amen +
[To view and enjoy the full Readings for today TAP HERE Opens in a new Window]
(26th October 2015 ~ Luke 13:10-17)