Feast of the Assumption of Mary into Heaven
+In the Name of the Father, and of the Son, and of the Holy Spirit. Amen+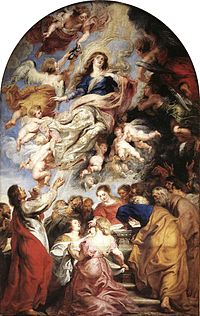 Short Story: The Angel Gabriel appeared to Mary and told her that she would bear a Son, Jesus. The Angel also said that her cousin Elizabeth was already six months pregnant. This was amazing news since Elizabeth was old and barren. Mary, probably accompanied by Joseph, 'hurriedly' went to visit Elizabeth, an estimated 160kms (100mls). When Mary arrived Elizabeth exclaimed with a loud voice, "Blessed are you among women, and blessed is the child in your womb. And who am I that the mother of my Lord should come and visit me? For the instant the sound of your greeting reached my ears, the baby in my womb leaped for joy". (Luke 1:42-44) Mary stayed with Elizabeth for three months, possibly until the birth of Elizabeth's son, John the Baptist.
Mary's Thoughts at this time were:
My soul glorifies the Lord, my spirit rejoices in God, my Saviour.
He looks on his servant in her lowliness; henceforth all ages will call me blessed.
The Almighty works marvels for me. Holy his name!
His mercy is from age to age, on those who fear him.
He puts forth his arm in strength and scatters the proud-hearted.
He casts the mighty from their thrones and raises the lowly.
He fills the starving with good things, sends the rich away empty.
He protects Israel, his servant, remembering his mercy,
the mercy promised to our fathers, to Abraham and his sons forever. Amen.
Private Reflection: It comes as no surprise that Mary, the Mother of Jesus, was assumed body and soul into heaven to be with Him.
Prayer: Hail Mary, full of Grace,
the Lord is with Thee,
Blessed art thou amongst women
and Blessed is the fruit of Thy womb, Jesus.
Holy Mary, Mother of God,
pray for us sinners
now and at the hour of our death. Amen.
Mary Queen of Heaven: Pray for Us
+In the Name of the Father, and of the Son, and of the Holy Spirit. Amen+
[To view and enjoy the full Readings for today CLICK HERE]