Jesus' Life: Chapter 1 – The Prophet John The Baptist
In some cultures, the announcement of the birth of a royal child can be a very grand affair. However, none surpasses the announcement of the birth of Jesus or John the Baptist.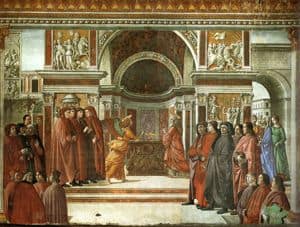 Zechariah and Elizabeth were in their old age, Elizabeth was barren and they spent much of their "golden years" in prayer and thanksgiving to God. Of course, they had wanted a child but, until then, they hadn't been blessed with one.
Then, while Zechariah was serving as Priest at the altar of incense in the Temple, an Angel appeared to him. He was, "Shaken… and seized with fear". The Angel said, "Do not be afraid, Zechariah, for your prayer has been heard, and your wife Elizabeth will bear you a son; you will name him John".
Zechariah said to the Angel, "How can I be sure of this? For I am an old man, and my wife is old as well". The Angel answered him, "I am Gabriel… I was sent to speak to you and to bring you this good news. And now, because you did not believe my words… you will be unable to speak, until the day these things take place".(Luke 1:5-25)
Thought
How many times have I questioned the promises made by Jesus? Perhaps, my behaviour is akin to Zechariah in many instances; asking, not believing and yet freely receiving the gifts!
Reflection
God our Father, thank you for the precious gift of John The Baptist and thank you for the numerous other gifts You granted to me.
I pray that I become more like John in my life, seeking your forgiveness and repenting of my misgivings. Take me closer to Your Son Jesus, today.
Prayer:
All Needs (St Clement of Rome)
We beg you, Lord, to help and defend us.
Deliver the oppressed.
Pity the insignificant.
Raise the fallen.
Show yourself to the needy.
Heal the sick.
Bring back those of your people who have gone astray.
Feed the hungry.
Lift up the weak.
Take off the prisoner's chains.
May every nation come to know that you alone are God,
that Jesus is your child,
that we are your people,
the sheep that you pasture. Amen.