Extract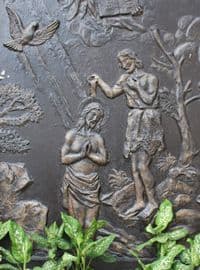 Following Jesus' baptism by John and while Jesus was praying, "the heavens opened, and the Holy Spirit descended on him in bodily form like a dove. And a voice came from heaven, 'You are my one dear Son; in you, I take great delight'." (Luke 3:21-22)
Thought
Although Jesus was without sin, He still prayed to God the Father and at the moment of His baptism, the Holy Sacrament of Baptism was "sanctified" by God for everyone.
Reflection
Almighty Father, fill me with your Holy Spirit, pour out your blessings upon me and guide me so that I may grow in the full knowledge of your unending love for me.
Prayer: Most Holy Spirit
Most Holy Spirit, beloved of my soul, I adore You.
Enlighten me, guide me, comfort me, console me.
I promise to submit myself to all You desire of me,
And permit all You wish to happen to me.
Give me Your help, tell me what to do.
Most Holy Spirit, bring peace to my world. Amen.