Featured Saint: St Patrick (5th Century)
St Patrick was born in Roman Britain; suggestions for the exact whereabouts of his home vary from Wales, to Cumbria and Scotland. At 16yrs, he was taken by a group of pirates to Ireland and held captive for 6yrs. During that time he converted to Christianity.
Escaping his captors, St Patrick returned to Britain and continued to study Christianity. It was then that he described receiving a vision in which he heard a voice saying, "We appeal to you … come and walk amongst us". St Patrick interpreted the message as being, "The voice of the Irish". He returned to Ireland as a missionary, later becoming Bishop of Armagh. He "baptised thousands of people" and ordained many Priests to help spread the Christian faith across the island. He is attributed to having banished snakes from the country. He is Patron Saint of Ireland and venerated in many countries worldwide.
+ In the Name of the Father, and of the Son, and of the Holy Spirit. Amen +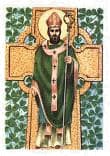 Short Story: Jesus said to a group of Judeans, "I tell you the solemn truth, if anyone obeys my teaching, he will never see death. Before Abraham came into existence, I was". (John 8:51, 58)
Thoughts: Jesus, is always with us.
Reflection: Lord Jesus, cleanse me from my selfishness, open my heart and thoughts to your teachings and renew in me the wonders of your everlasting promises.
Prayer: Breastplate (St Patrick's)
I bind unto myself today,
the power of God to hold and lead,
his eye to watch, his might to stay,
his ear to harken to my need:
the wisdom of my God to teach,
his hand to guide, his shield to ward;
the word of God to give me speech,
his heavenly host to be my guard.
Christ be with me, Christ within me,
Christ behind me, Christ before me,
Christ beside me, Christ to win me,
Christ to comfort me and restore me,
Christ beneath me, Christ above me,
Christ in quiet, Christ in danger,
Christ in hearts of all that love me,
Christ in mouth of friend and stranger.
St Patrick: Pray for Us
Today's Music Suggestion: The Deer's Cry
+ In the Name of the Father, and of the Son, and of the Holy Spirit. Amen +
[To view and enjoy the full Readings for today TAP HERE – Opens in a new Window]