Extract

: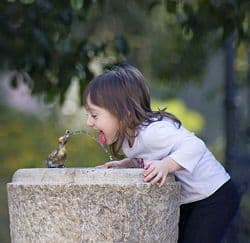 When the Son of Man comes in his glory, he will say:
"Come, you who are blessed by my Father, inherit the kingdom prepared for you from the foundation of the world. For I was hungry and you gave me food, I was thirsty and you gave me something to drink, I was a stranger and you invited me in, I was naked and you gave me clothing, I was sick and you took care of me, I was in prison and you visited me". (Matthew 25:35-36)
Thought
Lord, may I forever recognise and respond, with warmth, to your people's needs.
Reflection
Lord Jesus, in the turmoil of my day, open my eyes to the hungry, thirsty, naked, sick and imprisoned. Then Lord, help me to open my heart.
Prayer: Working (Jacob Boehme)
Give me, dear Lord, a pure heart and a wise mind,
that I may carry out my work according to your will.
Save me from all false desires,
from pride, greed, envy and anger,
and let me accept joyfully every task you set before me.
Let me seek to serve the poor
the sad and those unable to work.
Help me to discern honestly my own gifts
that I may do the things of which I am capable,
and happily and humbly leave the rest to others.
Above all, remind me constantly that I have nothing except what you give me,
and can do nothing except what you enable me to do.
Private Moments
Hymn: O Come, O Come Emmanuel
Almighty Father, thank you for this new day. Bless me and keep me safe.

Lord Jesus Christ,  guide me in my work, silence my fears and accept my achievements as a small gift of thanks to You.
Related Link: Full Gospel Readings For Today