Extract

: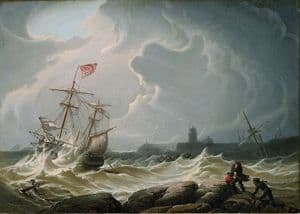 Jesus was asleep in a boat when a storm developed. His disciples were terrified and woke Him up. Jesus said, "You people of little faith" and "got up and rebuked the winds and the sea". The storm immediately subsided. (Matthew 8:26)
Thought
Lord Jesus, you reign over the whole universe but I sometimes forget!
Reflection
Holy Spirit, pour out your blessings on me today. May I have no fear of the storms that await me.
Prayer: Anima Christi
Soul of Christ, sanctify me
Body of Christ, save me
Blood of Christ, inebriate me
Water from the side of Christ, wash me
Passion of Christ, strengthen me
O Good Jesus, hear me
Within Thy wounds, Lord, hide me
Suffer me, not to be separated from Thee
From the malicious enemy defend me
In the hour of my death call me
that I may praise Thee with Thy Saints and Angels,
forever and ever. Amen.
Private Moments
Hymn: Open The Eyes Of My Heart
Almighty Father, thank you for this new day. Bless me and keep me safe.

Lord Jesus Christ,  guide me in my work, silence my fears and accept my achievements as a small gift of thanks to You.
Related Link: Full Gospel Readings For Today