Extract

: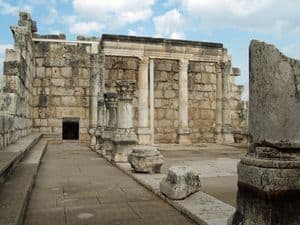 Inside the synagogue in Capernaum, "There was a man … with an unclean spirit, and he cried out [to Jesus], 'Leave us alone, Jesus the Nazarene'! Have you come to destroy us? I know who you are – the Holy One of God!"
Jesus rebuked the spirit saying: "Silence! Come out of him!".
The unclean spirit threw the man to the floor and left. (Mark 1:23-25)
Thought
Had I been in the Synagogue when Jesus performed this miracle, I wonder, how would I have reconciled the words of the unclean spirit with the spirit leaving at Jesus' command!
Reflection
Lord Jesus, may I proudly proclaim that you are the Holy one of God to others, through my every action today.
Prayer
–

Teach Us
Teach us Good Lord;
To serve you as you deserve;
To give and not to count the cost;
To fight and not to heed the wounds;
To toil and not to seek for rest;
To labour and to ask for no reward,
Save that of knowing we do your will.
Private Moments
Hymn: You Are My All In All
Almighty Father, thank you for this new day. Bless me and keep me safe.

Lord Jesus Christ,  guide me in my work, silence my fears and accept my achievements as a small gift of thanks to You.
Related Link: Full Gospel Readings For Today