Featured Saint: St Bernadette Sobirous (1844-1879)
St Bernadette was born the eldest of nine children into a poor family at Lourdes, France. On 11th February 1858, when she was 14yrs, she had her first vision of the Blessed Virgin Mary. At first Bernadette and her friends kept the visions secret but news soon spread and a further seventeen were recorded. The events attracted the attention of people from afar, as well as government officials. All efforts to prevent or cast doubt on them failed. Indeed, because the apparitions were so well scrutinised and documented both then and now, the volume of concrete evidence gathered by experts from all fields make them more irrefutable. Bernadette joined the Sisters of Charity in Nevers where she performed routine convent and church duties as well as daily religious devotion with her congregation. From youth she suffered from severe asthma and in later life she contacted tuberculosis of the bone. She died at the young age of 35yrs. Her body was exhumed many years later and found not to have decomposed. It was placed in a new casket and is today displayed in the Chapel of St Bernadette. Millions of people, from all religions, visit the site every year and numerous miracles have been reported.
The miracles are often associated with a spring from which water first flowed when the Blessed Virgin Mary asked Bernadette to scrape dirt away from nearby ground.
+In the Name of the Father, and of the Son, and of the Holy Spirit. Amen+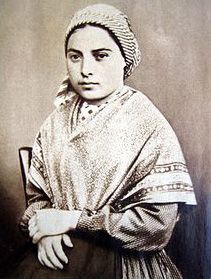 Short Story: Judas Iscariot had decided to betray Jesus to the chief priests so he asked them "What will you give me to betray him into your hands?" So they set out thirty silver coins for him. From that time on, Judas began looking for an opportunity to betray him". (Matthew 26:15-16)
Thoughts: Money is an easy short term distraction, with little long term gain! Be careful!
Private Reflection: What is all the money in the world worth if it can't buy you eternal life?
Prayers: Select your own personal prayers from our website.
St Bernadette Sobirous: Pray for Us
+In the Name of the Father, and of the Son, and of the Holy Spirit. Amen+
[To view and enjoy the full Readings for today CLICK HERE]