Featured Person: Blessed Franz Jagerstatter (1907 -1943)
Blessed Franz was born into a peasant family at Sankt Radegund, Austria. His father was killed in World War I and, as a child, he was cared for by his grandmother and natural mother. His youth was spent working as a miner and farmer on the family farmstead which he inherited when his father died. Blessed Franz married a very devout Catholic, spending their honeymoon on pilgrimage in Rome. They had three daughters.
When Germany invaded Austria in the Second World War, Blessed Franz was the only person in his village to vote against their occupation and Austria's annexation to make it part of Germany. Blessed Franz, although he had a brief period of military training, actively avoided army conscription on the grounds of exemption as a farmer.  Instead, he remained involved in his community, joining the Franciscans as a lay person and working as sacristan.
Blessed Franz was finally forced into active service but he again refused, declaring himself to be a conscientious objector although, he offered to serve as a paramedic. His offer was ignored. He was imprisoned and executed by guillotine, aged 36yrs.
+In the Name of the Father, and of the Son, and of the Holy Spirit. Amen+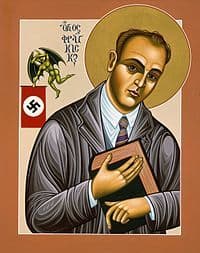 Short Story: It was the feast of Unleavened Bread and Jesus told two of his disciples to go into the city to prepare for what would be The Last Supper. He said, "a man carrying a jar of water will meet you. Follow him. Wherever he enters, tell the owner of the house, 'The Teacher says, "Where is my guest room where I may eat the Passover with my disciples?"' He will show you a large room upstairs, furnished and ready. Make preparations for us there." (Mark 14:12-16)
The two disciples found everything, as Jesus had described.
Thoughts: Jesus knew all that was going to happen to him; He went "as a Lamb to the slaughter."
He also knows everything that will happen to us today, but he will support us, if we open our hearts!
Private Reflection: Lord Jesus, gently shine your light into the darkness of my life.
Prayer: Light ~ Extracts from the Gospels
The light of God surrounds me,
the love of God enfolds me,
the power of God protects me,
the presence of God watches over me,
wherever I am, God is,
and where God is, all is perfect.
Blessed Franz Jagerstatter:   Pray for Us
Today's Music Suggestion: Open the eyes of my heart, Lord
+ In the Name of the Father, and of the Son, and of the Holy Spirit. Amen +
[To view and enjoy the full Readings for today TAP HERE – Opens in a new Window]
(7th June 2015)