Featured Saint: Bridget of Ireland: (ca 453-524)
Bridget is one of Irelands best known Saints along with St Patrick and St Columba. She is sometimes known as Bridget of Kildare. As with most early church Saints, written records about her are limited and incomplete. From birth, Bridget was believed to have been especially blessed and numerous miracles were attributed to her throughout her life. At a young age Bridget committed herself to a religious life and later established prayer centres and monasteries. The unique St Bridget's Cross, often made from plant stalks, is attributed to her; it remains a common religious feature in Irish homes and Irish culture. St Bridget is also venerated in many other European countries and America. Part of her remains is preserved in the Church of St John the Baptist, Lumiar, Portugal.
+In the Name of the Father, and of the Son, and of the Holy Spirit. Amen+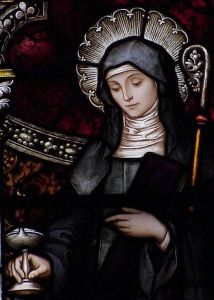 Bible Story: When a terrifying storm appeared to be on the verge of capsizing their boat, the disciples woke Jesus up and begged for his help. "So he got up and rebuked the wind, and said to the sea, "Be quiet! Calm down!" Then the wind stopped, … and he said to them, "… Do you still not have faith?" They were overwhelmed by fear and said to one another, "Who then is this? Even the wind and sea obey him!" (Mark 4:39-41)
Thoughts: For many people today their faith may waver. Why? Well, the tests and challenges of life are not always easy to reconcile but when the sun sets and the day ends it is great to know that Jesus is still the Captain of our boat.
Private Reflection: Jesus calmed the storm and for the disciples seeing was believing; for us today, faith is all that we need.
Prayers: Select your own personal prayers from our website.
St Bridget: Pray for Us
+In the Name of the Father, and of the Son, and of the Holy Spirit. Amen+