Featured Saints: St Fabian (200-250) and St Sebastian (256-283)
St Fabian was one of a number of Popes martyred for their Christian faith and leadership. Although he initially found favour with the Roman rulers of his time, it ended when a new emperor was appointed and insisted that Christians demonstrate their loyalty to Rome by offering incense to their Gods. This was viewed as idolatry.
St Sebastian was also an early Christian martyr of Roman times. It is believed that through his faith he performed many miracles and converted many to the Christian faith. He was saved from the first attempt to execute him with arrows but was later clubbed to death.
+In the Name of the Father, and of the Son, and of The Holy Spirit. Amen+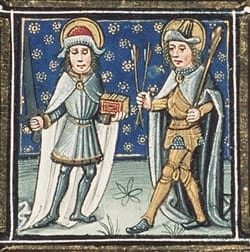 Short Quote: Jesus said, "And no one pours new wine into old wineskins; otherwise, the wine will burst the skins, and both the wine and the skins will be destroyed. Instead new wine is poured into new wineskins." (Mark 2:22)
Thoughts: People were often questioning or trying to catch Jesus out, but frequently He used simple logic to ease or answer their concerns. On this occasion they wanted to find fault with him for working on the Sabbath. He was probably saying, 'do what is right for the occasion, always respect others'.
Private Reflection: Today, help me to put others first; that's logic!
Prayers: Select your own personal prayers from our website.
St Fabian: Pray for Us St Sebastian: Pray for Us
+In the Name of the Father, and of the Son, and of The Holy Spirit. Amen+