Featured Saint: St Ignatius of Laconi (Approx. 1701 – 1781)
St Ignatius was born at Laconi (Italy) into a peasant family. In his youth he became seriously ill and vowed that if cured he would join a religious order. St Ignatius did recover but dithered about joining the order. Later after a riding accident his life was again in great danger and he again made the same vow in prayer to St Francis of Assisi. Once recovered, St Ignatius joined the Capuchin Friars although; because of his poor health and frail nature they were hesitant at first. St Ignatius spent the remainder of his long life in prayer and penance doing the many general chores as required of him by his superiors. One of the duties asked of him was to collect daily alms for the upkeep of his community. He did so out of duty with a reverence that gained him much respect among the townsfolk and many miracles were performed during the process. Even after becoming blind he continued his daily collections.
+In the Name of the Father, and of the Son, and of the Holy Spirit. Amen+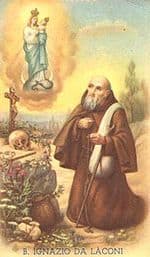 Short Story: Jesus often said to the crowds of people who followed him, I am the good shepherd and, "I have come so that [you] may have life, and may have it abundantly". (John 10:10b)
Thoughts: The good shepherd always takes care of his people, if one is lost he will do whatever is necessary to find it and care for it.
Private Reflection: I suspect that if St Ignatius' was alive today his advice to us would be, 'do not leave until tomorrow what you can achieve today, and tomorrow you will be a richer person'.
Prayers: Select your own personal prayers from our website.
St Ignatius: Pray for Us
+In the Name of the Father, and of the Son, and of the Holy Spirit. Amen+
[To view and enjoy the full Readings for today CLICK HERE]