Featured Saint: St Agnes of Rome (291-304)
St Agnes' life by all accounts was a very short one. It's believed that she was born into a wealthy Christian family and with that wealth came many marriage suitors. She refused them, opting for 'resolute devotion to religious purity'. St Agnes was condemned to be dragged through the streets. There are various legends of torture and miracles that followed but all end with her death at the age of 13. She is just one of seven women commemorated by name in the Holy Mass. She is the Patron Saint of girls.
+In the Name of the Father, and of the Son, and of The Holy Spirit. Amen+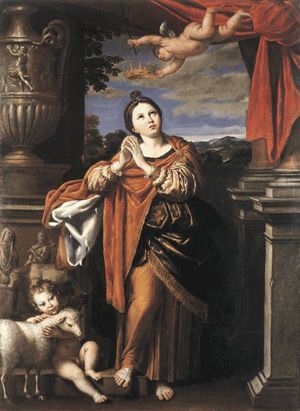 Short Quote: Jesus said "The Sabbath was made for people, not people for the Sabbath". (Mark 2:27)
Thoughts: Jesus' statement here has always intrigued me, then a twelve year old girl shared her understanding, she said, "It means, do as much good as you can on the Sabbath as well as every other day of the week".
Private Reflection: Why do we make life so complicated for ourselves?
Prayers: Select your own personal prayers from our website.
St Agnes: Pray for Us
+In the Name of the Father, and of the Son, and of The Holy Spirit. Amen+