Featured Saint: St Ephrem (Approx. 306 – 373)
St Ephrem was baptised a Christian in Nisibis, Turkey – close to the Syrian border. His parents were Christians, his father possibly a pagan priest before converting to Christianity. He was ordained Deacon and appointed Teacher. His stance against heresy inspired many others within the church. He became a prolific writer of hymns, poems, sermons and other great works. Over 400 of his hymns still exist today. He is often referred to as the "Deacon of Edessa", the "Son of the Syrians" and the "Pillar of the Church". St Ephrem died from the plague as he ministered to its victims. He is a Doctor of the Roman Catholic Church.
+In the Name of the Father, and of the Son, and of the Holy Spirit. Amen+
Quotations from St Ephrem:
"Blessed is the person who has consented to become the close friend of faith and of prayer".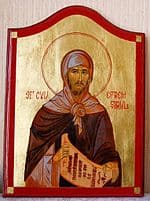 "If the Son of God is within you, then His Kingdom is also within you. Thus, the Kingdom of God is within you, a sinner. Enter into yourself, search diligently and without toil, you shall find it. Outside of you is death, and the door to it is sin. Enter into yourself; dwell within your heart, for God is there".
Short Story: Jesus, in his teachings, also gave to us many beautiful reflective prayers including the Beatitudes:
Blessed are the poor in spirit, for theirs is the kingdom of heaven.
Blessed are the meek, for they shall inherit the earth.
Blessed are those who mourn, for they shall be comforted.
Blessed are they who hunger and thirst for righteous sake, they shall be satisfied.
Blessed are the merciful, for they shall obtain mercy.
Blessed are the clean of heart for they shall see God.
Blessed are the peacemakers, for they shall be called children of God.
Blessed are they who suffer persecution for justice's sake, for theirs is the kingdom of heaven. Amen. (Matthew 5:1-11)
Prayers: Select your own personal prayers from our website.
St Ephrem: Pray for Us
+In the Name of the Father, and of the Son, and of the Holy Spirit. Amen+
[To view and enjoy the full Readings for today CLICK HERE]