Featured Saint: Bridget of Sweden: (1303-1373)
St Bridget was born into a very wealthy landowner family in Uppland, Sweden. She married at the age of 14yrs, and bore eight children. Two of her children died in infancy and her husband died when she was 34yrs. One of her daughters is honoured as St Catherine of Vadstena. Following her husband's death, St Bridget joined the Order of St Francis and devoted herself to a life of prayer and caring for the sick and poor. She founded the Bridgettine Nuns and Monks. She had many visions from childhood, most notably of the nativity of Jesus and of purgatory. She is one of six Patron Saints of Europe.
+In the Name of the Father, and of the Son, and of the Holy Spirit. Amen+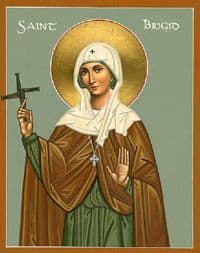 Short Quote: The Risen Jesus said to Mary Magdalene, "Go to my brothers and tell them, I am ascending to my Father and your Father, to my God and your God." (John 20:17b)
Thoughts: God our Father, may I one day share a place in your Kingdom!
Private Reflection: Lord Jesus, by your Cross and Resurrection you have rescued me. Help me to carry my cross today and give me the grace to know when to help others.
Extract from a Prayer by St Bridget:
May the Fruit of Your Suffering be renewed in my soul by the faithful remembrance of Your Passion, and may Your Love increase in my heart each day, until I see You in Eternity; You are the treasure of every real good and every joy, which I beg You to grant me, O Sweetest Jesus, in Heaven. Amen.
Prayers: Select your own personal prayers from our website.
St Bridget: Pray for Us
+In the Name of the Father, and of the Son, and of the Holy Spirit. Amen+
[To view and enjoy the full Readings for today CLICK HERE]