Featured Saint: St Valentine (Died ca 269 on 14th February)
There are many legends relating to possibly many St Valentines. However the St Valentine celebrated on this day was a Christian martyr who died on the Via Flaminia, Rome. One account states that he was a Priest arrested for marrying Christian couples during the Roman reign of Emperor Claudius II. Christians were at the time persecuted by Claudius and marriage was outlawed. But Claudius liked him very much, that is until Valentine tried to convert him; Claudius' response was to have him imprisoned, tortured and beheaded. An elaboration on his time in prison states that a guard who also respected him asked him to help his blind daughter. Valentine agreed and after praying to God, the girl's sight was restored.
+In the Name of the Father, and of the Son, and of the Holy Spirit. Amen+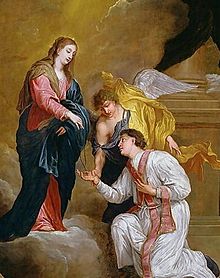 Bible Quote: Jesus healed a deaf man and "People were completely astounded and said, He has done everything well. He even makes the deaf hear and the mute speak." (Mark 7:37)
Thoughts: "No one has greater love than this – that he lay down his life for his friends". (John 15:13)
Private Reflection: St Valentine loved God, that's why he kept preaching even in the prison knowing it could lead to his death.
Prayers: Select your own personal prayers from our website.
St Valentine: Pray for Us
+In the Name of the Father, and of the Son, and of the Holy Spirit. Amen+