Featured Saint: St Vincent de Paul (1581 – 1660)
St Vincent de Paul was born the third child of a peasant farming family at Pouy, France. In his youth he helped on the family plot and learned to read and write. At 15 he went to seminary and then studied at Toulouse University receiving a Bachelor of Theology. He part paid for his studies by tutoring others. He was ordained a priest at 19 and appointed Parish Priest a few years later but resigned to avoid legal appeals against his appointment because of his young age. On a return boat trip to Marseilles he was taken captive and for the next two years sold and passed on as a slave from one master to another. When he was finally able to return to France he went to Rome and continued his studies but soon returned to France to minister as Chaplain and Priest. There he founded the "Ladies of Charity", a group of wealthy women, to collect funds for missionary projects, hospitals, victims of war and pay ransoms to release gallery-slaves in Paris. He also became leader of the "Congregation of the Mission" and was diligent in conducting retreats for clergy at a time of great laxity. St Vincent was renowned for his compassion, humility and generosity and referred to as the "Great Apostle of Charity". He is the Patron Saint of Charities including the St Vincent de Paul Society.
+In the Name of the Father, and of the Son, and of the Holy Spirit. Amen+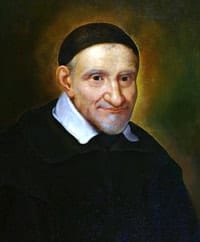 Short Story: As numerous crowds gathered to see Jesus, the disciples followed and listened. The atmosphere was often one of joy and celebration but Jesus also occasionally reminded the disciples that, "…the Son of Man is going to be betrayed into the hands of men". (Luke 9:44)
Thoughts: Although we don't know our future as Jesus did, we have the freedom to determine the path that we follow. Is it the path of good, evil or are we indifferent? Be careful!
Private Reflection: Today Lord Jesus, as I strive to follow your ways, may I not worry about the load that I carry but about the path that I have personally chosen!
Prayers: Select your own personal prayers from our website.
St Vincent de Paul: Pray for Us
+In the Name of the Father, and of the Son, and of the Holy Spirit. Amen+
[To view and enjoy the full Readings for today CLICK HERE]