Featured Saint: St James (Died 44AD)
St James, the son of Zebedee, was one of the Twelve Apostles. St John the Apostle was his brother. His father was a fisherman on the Lake of Galilee. Jesus called both James and John to join him while they were with their father by the lake. After Jesus' Ascension, St James and the other Apostles travelled preaching the Good news, baptising and converting. St James went to Iberia and while in Caesaraugusta, Spain the Blessed Virgin Mary appeared to him. Following this mission he returned to Judea where he was arrested by King Herod and beheaded. St James is the Patron Saint of Spain.
+In the Name of the Father, and of the Son, and of the Holy Spirit. Amen+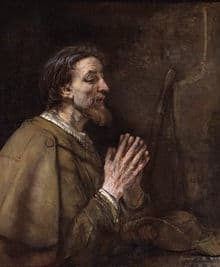 Short Story: James and John's mother, kneeling in front of Jesus said, "Permit these two sons of mine to sit, one at your right hand and one at your left, in your kingdom". (Matthew 20:21b) Jesus turned to James and John and asked, "Are you able to drink the cup I am about to drink?" (Matthew 20:22b)
Thoughts: St James and St John accepted the cup, sacrificing their life for God Our Father in Heaven. We can be safely assured that they are now both happily in the company of Jesus and Mary.
Private Reflection: Lord Jesus, through your resurrection, you enkindled in my heart that same hope of eternal life that you gave to your Apostles. Protect my hope with your grace and bring it to fulfilment in your Kingdom.
Prayers: Select your own personal prayers from our website.
St James: Pray for Us
+In the Name of the Father, and of the Son, and of the Holy Spirit. Amen+
[To view and enjoy the full Readings for today CLICK HERE]