Featured Saints: St Basil the Great & Gregory Nazianzen
Both were born around 330AD in Cappadocia, Turkey, became Monks, then Bishops and Doctors of the Church. When St Basil was once threatened with being sent into exile, he replied, "Is that all? Nothing of what you mention touches me … exile will be impossible, since everywhere on God's earth I am at home".
+In the name of the Father, and of the Son, and of The Holy Spirit. Amen+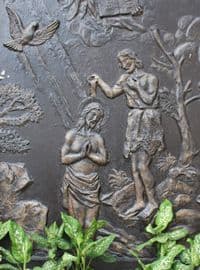 Thoughts: St Basil and St Gregory, you were close friends becoming talented students. You worked hard to understand and share the teachings of our faith. Today you are still great examples to us all.
St John the Baptist was another great teacher and martyr for our faith. In today's Gospel we are reminded of his own personal thoughts "I am not fit to undo [Jesus'] sandal strap"
Short Quote:
"So they said to him, 'Who are you? We must take back an answer to those who sent us. … So John said, 'I am, … a voice that cries in the wilderness: Make a straight way for the Lord'. … 'I baptise with water; but there stands among you … the one who is coming after me; and I am not fit to undo his sandal strap". (John 1:22-27)
Reflection: O God, help us in our work today; learning never ends and standing up for our faith never ceases. May we live in the footsteps of Saint Basil, St Gregory and St John so that we may please you in all that we do.
Possible Prayers: Our Father, who art in Heaven … Hail Mary, full of Grace … (… or select your own).
St Basil: Pray for Us
St Gregory: Pray for Us
+In the name of the Father, and of the Son, and of The Holy Spirit. Amen+