Featured Saint: St John Bosco (1815-1888)
St John Bosco was born in the village of Becchi, Italy. At 2yrs his father died and it was left to his mother, Margaret to look after him and his two older brothers. An early childhood dream, in which he was told by a Man and a Lady to prepare for battle on behalf of poor and ill disciplined young people, had a lifelong impact on him. It became his inspiration to study for the Priesthood and create a home and educational opportunities for the many 'forgotten' street children in Turin, Italy resulting from the European Industrial Revolution. John Bosco was a tactful leader, combining entertainment with teaching and praying; even the most hardened of the young people wanted to be involved in his work.
In later life John Bosco created the Salesian Order to help boys and, together with Maria Mazzarello, a similar order was founded for young girls. Salesian numbers rapidly increased and today remain an active force on every continent. When others commended him on his great work, he would say, "I have done nothing by myself, it is Our Lady who has done everything", possibly a reference to his childhood dream.
+In the Name of the Father, and of the Son, and of the Holy Spirit. Amen+
Short Quote – St John Bosco: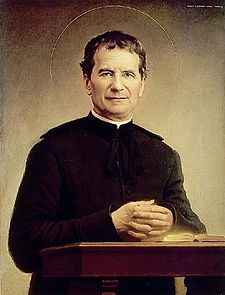 "How often in my long career have I had to convince myself of this great truth! It is certainly easier to lose one's temper than to be patient; threaten young people rather than to reason with them.
I would say that it better suits our pride to punish those who resist us, rather than to bear with them firmly and with kindness."
Thoughts: "Be firm in wanting good and preventing evil, but always gently and prudently" (St John Bosco)
Private Reflection: The founding principles of the Salesians is, reason, religion and kindness. May everything that we do today have a meaningful and honest purpose, may we do it in a prayerful manner and may we show respect to all whom we come in contact with while doing it.
Prayers: Select your own personal prayers from our website.
St John Bosco: Pray for Us
+In the Name of the Father, and of the Son, and of the Holy Spirit. Amen+