The Feast of The Most Holy Trinity
The Trinity consists of three persons in the one Divine God; the Father, Son and Holy Spirit.
Throughout the Gospels we find numerous references to all three. They were notably present at Jesus' baptism, by John the Baptist in the River Jordan. The Holy Spirit appeared as a dove, God the Father as a voice from heaven saying, "This is my Son in whom I am well pleased" and Jesus.
+In the Name of the Father, and of the Son, and of the Holy Spirit. Amen+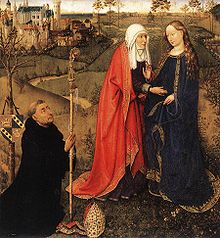 Short Story: Before Jesus ascended to heaven, he said to his disciples, "Go and make disciples of all nations, baptizing them in the name of the Father and the Son and the Holy Spirit, teaching them to obey everything I have commanded you. And remember, I am with you always, to the end of the age." (Matthew 28:27-28)
Thoughts: We profess our faith to God the Father, Son and Holy Spirit through the simple act of the Sign of the Cross; it has many meanings and many blessings.
Reflection: Glory be to the Father, and to the Son, and to the Holy Spirit. As it was in the beginning, is now and ever shall be, world without end. Amen.
Prayer: Holy Spirit
Breathe into me Holy Spirit,
that my thoughts may be holy.
Move in me, Holy Spirit,
that my work too, may be holy.
Take my heart, Holy Spirit,
that I may love only what is holy.
Strengthen me, Holy Spirit,
that I may defend all that is holy.
Protect me, Holy Spirit,
that I may always be holy.
Today's Music Suggestion: There is none like You
+In the Name of the Father, and of the Son, and of the Holy Spirit. Amen+
[To view and enjoy the full Readings for today TAP HERE – Opens in a new Window]
(31st May 2015)