Featured Saint: St Margaret of Cortona (1247-1297)
St Margaret was born into a farming family in Laviano, Italy. Margaret's mother died when she was seven. Her father remarried but Margaret and her stepmother didn't agree. To say that Margaret was strong minded and determined to do things her way, could be close to the truth. At 17 she left the family home to live in a castle as mistress to the Son of a Lord. She bore him a son but about 10yrs later her lover was found dead. Margaret greatly regretted her lifetime actions, returned all material gifts given to her, to her lovers' family and chose to live a life of poverty and prayer. She was eventually accepted into the Order of St Francis where she established a hospital for the poor. She is the Patron Saint of, amongst other things, temptations.
+In the Name of the Father, and of the Son, and of the Holy Spirit. Amen+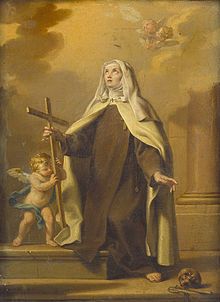 Bible Story: Jesus asked his disciples: "Who do people say that the Son of Man is?" They answered, "Some say John the Baptist, others Elijah, and others Jeremiah or one of the prophets." He said to them, "But who do you say that I am?" Simon Peter answered, "You are the Christ, the Son of the living God" (Mathew 16:13-16)
Thoughts: Lord, guide me in my travels, help me to see the obvious and avoid the mistakes.
Private Reflection: While in prayer, St Margaret heard the words, "What is your wish, poverella ("little poor one?"), and she replied, "I neither seek nor wish for anything but You, my Lord Jesus."
Prayers: Select your own personal prayers from our website.
St Margaret: Pray for Us
+In the Name of the Father, and of the Son, and of the Holy Spirit. Amen+