Featured Saint: St Marcellinus and St Peter (Died 304)
St Marcellinus was a Priest and St Peter a Holy man. They both suffered the same fate as many hundreds of other Christians during the reign of Diocletian the Roman Emperor.
Initially Diocletian allowed Christian worship to take place but from 302, perhaps influenced by others, he started an unrelenting programme of persecution. Firstly, all soldiers were instructed to renounce their faith and worship Roman gods then, church property and assets were confiscated and finally, every remaining Christian arrested.
The choice given to Christians was stark; either abandon their faith or face execution. It is said that Marcellinus and Peter were executed outside Rome in an area of rough ground so as to deny them a proper burial and prevent their Christian community from having access to their bodies. St Marcellinus and Peter happily assisted in preparing their burial spot as they prepared for their imminent martyrdom and eternal salvation.
+In the Name of the Father, and of the Son, and of the Holy Spirit. Amen+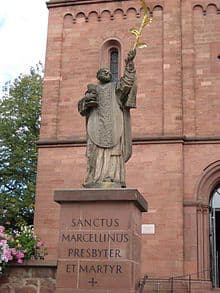 Short Story: When some Pharisees tried to trick Jesus by asking if they should pay taxes to Caesar, Jesus asked them for a coin.
Looking at it he asked, "Whose image is this, and whose inscription?" They replied, "Caesar's." Then Jesus said to them, "Give to Caesar the things that are Caesar's, and to God the things that are God's." (Mark 12:16-17)
Thoughts: Perhaps this is still a commonly used trick question in todays world! Jesus avoided such political discussion and focused on God's plan!
Private Reflection: Lord Jesus, may everything that I do today be a worthy offering to you.
Prayer: Daily Prayer ~ St Francis
Lord, help me to live this day, quietly, easily;
to lean on your great strength, trustfully, respectfully;
to wait for the unfolding of your will, patiently, serenely;
to meet others, peacefully, joyfully;
to face tomorrow, confidently, courageously.
St Marcellinus and St Peter: Pray for Us
Today's Music Suggestion: Worthy is the Lamb
+ In the Name of the Father, and of the Son, and of the Holy Spirit. Amen +
[To view and enjoy the full Readings for today TAP HERE – Opens in a new Window]
(2nd June 2015)